George Thorn
he|him|his
George Thorn is the co-founder of Arts Action Research, a national arts-consulting group. As a consultant, he works in all aspects of organizational development as well as making presentations to conferences and workshops. In parallel with his consulting activities, for eighteen years he directed the graduate program in Arts Administration at Virginia Tech in Blacksburg, Virginia. He was the Associate Director of FEDAPT. Prior to these activities, he was the Executive Vice-President of the Eugene O'Neill Theater Center. George spent sixteen years in New York where he had a general management firm that managed Broadway, Off-Broadway, and touring companies. He began his career as a stage manager of Broadway productions.
In 1996, he relocated to Portland, Oregon, to open the West Coast office of Arts Action Research. In Portland, he has consulted with over two hundred arts and cultural organizations and artists. The focus of his consulting is the Regional Arts and Cultural Council's Cultural Leadership Program and he co-leads RACC's Art of Leadership Workshop Series. 
With Nello McDaniel, he has co-authored the following publications:
An Elegant Process: The Artistic Process/The Planning Process
Leading Arts Boards
Growing Audiences
Arts Planning: A Dynamic Balance
Towards a New Arts Order: Process, Power, and Change
Workpapers II: Arts Boards—Myths, Perspectives, and New Approaches
A Special Report/The Quiet Crisis in the Arts
Workpapers I: Rethinking and Restructuring the Arts Organization
Challenge of Change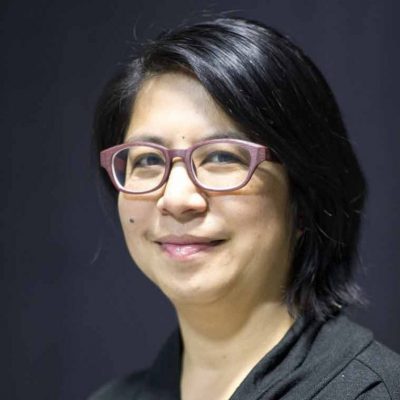 Toni Tabora-Roberts
she|her|hers
Toni Tabora-Roberts has more than 20 years of experience working in the nonprofit and private sectors in a variety of roles, with expertise in program management, communications, community engagement, grant making and strategic planning. She has particular experience and passion for arts, culture, media, education, leadership development, and social justice. Her approach to work with organizations favors team-based collaboration, interpersonal connections, experiential engagement, and culturally responsive, strengths-based facilitation. She recently founded Esper House, a management and communications consultancy.
Organizations she currently works with or has worked with previously include City Club of Portland, Regional Arts & Culture Council, Oregon Public Broadcasting, MediaRites, Shaking the Tree, Unit Souzou, KBOO Community Radio, and Center for Asian American Media. She serves Board Vice Chair for APANO Communities United Fund and is a member of Arts Workers for Equity, and City Club of Portland's Friday Forum Committee. She has previously served as Board Vice Chair with Bitch Media and on the Program Committee with Partners in Diversity.
Matt Carron
he|him|his
Matt joined RACC as a Workplace Giving staff member in 2015 and transitioned to Grants in 2018 to a new position supporting organizational development. In his role, he administrates the Art of Leadership Workshop Series, Capacity Building Program, Cultural Leadership Program, DIY Accounting Program, and serves all areas of RACC's grant making. Matt hails from back East where he earned his Bachelor's degree in Music Education, after which he taught in the public schools for ten years and co-founded the Fillmore Wind Band in Cincinnati, OH. He earned his MA in Arts Administration from the University of Kentucky before migrating west to Oregon. Matt loves seeking out new arts experiences in the region, communing with nature, spending long hours with his dogs, spoiling his grandson, and dreaming up new home projects.
Questions? Contact Matt at artofleadership@racc.org or 503-823-5849